The Health care provider Family Health Center in Battle Creek takes healthy living seriously.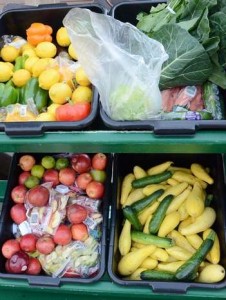 The facility, which already provides health care services seven days a week, took wellness one stop further: It began a fresh food program. It's an unlikely project to operate out of a health care facility, as they're more often found in churches or put on by other agencies – but to the Food Bank of South Central Michigan, the program is exactly what the community needs.
The Family Health Center was named by the food bank as its member agency of the year. The award was announced at the food bank's annual stakeholders' meeting Thursday.
"We've been looking for alternative ways to get these great products out," said Bob Randels, the food bank's executive director, "and the Family Health Center has been a great exemplary pilot showcase of what other ways and what other channels of distribution are possible by partnering up with different types of groups."
Nearly 20 people were lined up outside the Family Health Center on Thursday morning when a truck pulled up. In the back was an array of fresh produce including squash, potatoes, grapes and cantaloupe. At the end of the line, employees filled each person's bag with a carton of eggs.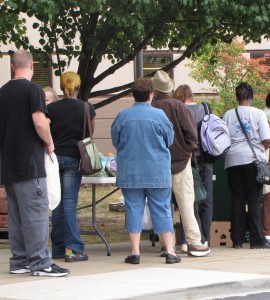 Linda Johnson, 50, was one of the first lined up Thursday morning for the fresh produce. She walked away with eggs, bananas and salad mix. The Washington Heights resident, who has three adult daughters and four grandchildren, said she has been to other area food pantries, but the one at the Family Health Center always has an especially fresh selection of produce. Her favorite? Fruit and salad, she said.
"It all helps," said Johnson. "It helps make ends meet."
Ronnie Hecht, a health care advocate at the center, agreed. "I think it's very important for the fact that we are helping them eat healthier, we're treating them with dignity and respect and offering to just assist them," she said.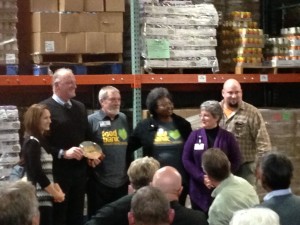 There is no income requirement and no paperwork needed to participate in the program, Hecht said. Only signing in is needed. The twice-weekly program brings 50 to 60 people each time, she said.
Hecht said the project was started up by the center's CEO A.J. Jones, who wanted to increase access to fresh fruits and vegetables for patients.
"It's nice to see those used to coming Monday and Thursday," Hecht said. "What's nice, too, is that people who may not be aware of it – if they have an appointment and see it, they get connected that way also."
Randels said the Family Health Center helps distribute grocers' fresh produce donations to the food bank quickly, allowing clients to receive the food before it perishes. "We're looking for other places where somebody could replicate this good idea," he said.
The food bank also named Post Foods as its food donor of the year and former General Motors executive Doug Sturdivant as its volunteer of the year at the meeting.
Nearly 300 agencies partner with the food bank, which serves eight counties. The Enquirer's executive editor, Michael McCullough, serves as the chair of the food bank's Board of Directors.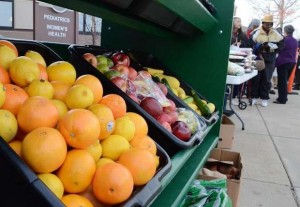 More than one-fifth of the Family Health Center's patients last year were living below the poverty level, according the agency's website. About 84 percent of its encounters dealt with patients who were either uninsured or received Medicaid coverage
Written by
Jennifer Bowman
The Enquirer