Pediatric Services at Grace Health emphasize how your child grows and develops from infancy through the teen years. We stress the importance of immunizations along with well child care. We also test for and provide information on lead poisoning, an "Infant Safe Sleep" environment and the national Reach Out and Read program – all play a vital role in our pediatric department's goal to help you raise healthy children.
Grace Health is partnering with patients to keep children healthy.  At the end of 2016, 86% of Grace Health patients who were under 3 years of age received all of their recommended vaccines.
CenteringParenting – This program is currently on hold due to COVID-19.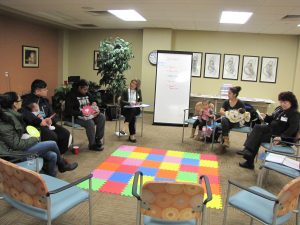 CenteringParenting brings 6-8 moms, partners, support people and their same-age infants together for family-centered care for the child's first two years of life. Each CenteringParenting visit includes individual, well-child health assessments, developmental screenings and immunizations along with group discussions and interactive activities that focus on safe sleep, nutrition, development and safety. This creates an environment to get questions answered and build your confidence as a parent. The first year includes 6 appointments with the schedule given a year in advance. The second year includes 3 appointments, again with the schedule given a year in advance. CenteringParenting allows you the opportunity to share with and learn from other parents who are having the same or similar experiences as you. Fun, family activities will be done at each session to help support your growing baby's development.
Hours:  Grace Health Pediatrics is open 7:30 am – 6:30 pm Monday – Thursday; 8:00 am – 5:00 pm Friday
Telephone:  (269) 965-8866
Our Family Practice providers also see pediatrics patients. To see a list of our Family Practice providers click here.